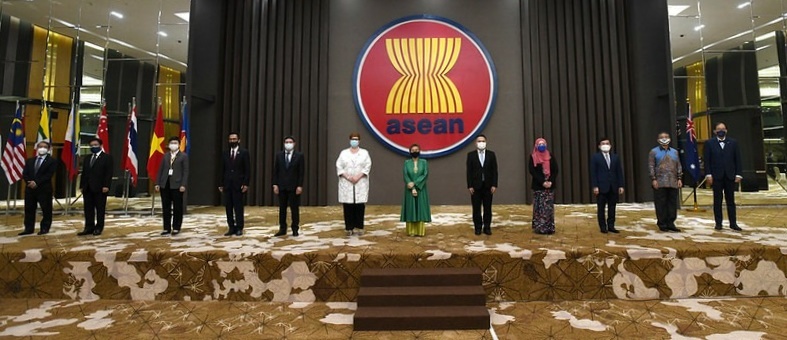 Australian Foreign Minister Marise Payne joins the ASEAN Committee of Permanent Representatives for a meeting at the ASEAN Secretariat in Jakarta on 9 September 2021.
Welcome to the website of the Australian Mission to ASEAN. The Mission is responsible for advancing Australia's interest with ASEAN and ASEAN-led processes. It was established in September 2013 in Jakarta, headquarters of the ASEAN Secretariat and the ASEAN Committee of Permanent Representatives. The Mission also has a sub-regional office in Bangkok.
ASEAN has long been an important institution for Australian Governments, starting well before ASEAN became a byword for Southeast Asia's economic dynamism. That's why Australia became ASEAN's first dialogue partner in 1974, why we negotiated the ASEAN-Australia-New Zealand Free Trade Agreement last decade and why leaders upgraded our relationship to a Strategic Partnership in 2014.
A strong ASEAN benefits Australia. It means a stable region which supports growth. ASEAN's central place in the region's architecture means it has long been recognised as the legitimate setter of regional norms. This has been key to building the trust and habits of cooperation that have underpinned Southeast Asia's stability – this role has never been more important than it is today.
ASEAN has also built a more economically integrated region, reflected in the formation of the ASEAN Economic Community in 2015. Over the last decade and a half, the ASEAN region has enjoyed a sustained period of rapid economic growth and financial stability, with combined GDP in 2014 reaching US$2.5 trillion. With Australia's two-way trade with ASEAN now exceeding $100 billion per year, it is our second largest trading partner after China.
Since the last joint report 'Why ASEAN and Why Now' in 2015, ASEAN has become the equivalent of the world's fifth-largest economy and its trade and investment partnership with Australia has strengthened. ASEAN has also progressed its vision of an ASEAN Economic Community. 'ASEAN Now' analyses a selection of the region's key growth drivers and the trade and investment opportunities nimble Australian businesses are well placed to explore. Each distinct ASEAN market is profiled in a key trends and commercial opportunities section. 'ASEAN Now' draws on the experience of Australia's diplomatic and trade missions and features a number of Australian companies successfully doing business in ASEAN.
Australia has worked closely with ASEAN over the decades of its remarkable journey. Not just with its member states but with ASEAN as an institution. We collaborate closely on major ASEAN-led arrangements, such in the premier leaders' forum – the East Asia Summit, in the regional security and defence ministers' fora (the ASEAN Regional Forum, ARF and the ASEAN-Defence Ministers' Meeting Plus), and of course on the trade and economic agenda.
Our support for ASEAN's regional integration goals through economic and development cooperation programs dates from the 1970s. Our current cooperation programs in Jakarta continue this longstanding support for economic integration, while our programs in Bangkok also focus on human security issues and help to combat exploitation and trafficking of migrants.
We hope you find this website useful for exploring the breadth and depth of Australia's partnership with ASEAN, and in tracking its future growth.