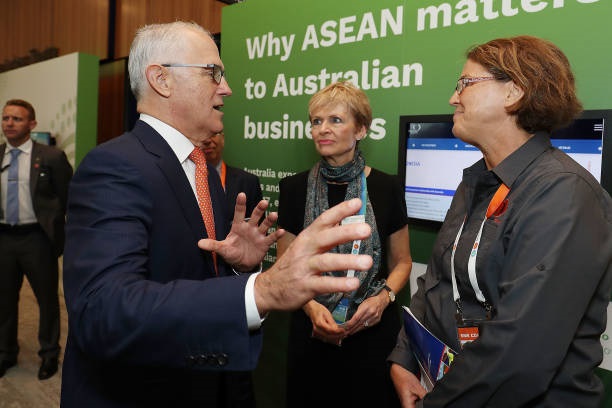 ASEAN embodies opportunity. In less than two decades, ASEAN's combined GDP has more than doubled, accompanied by rapid growth in consumer spending, urbanisation and internet penetration.
Between 2012 and 2020, the ASEAN middle-class will more than double, from 190 million to 400 million people. The cities of Southeast Asia are booming, with more than 90 million people expected to move to urban areas by 2030.
Australia had much to offer this dynamic region and now was the time for Australian businesses to focus on our nearest neighbours and contribute to the once-in-a generation opportunity the ASEAN region offers.
The Business Summit helped Australian and ASEAN businesses with the know-how and connections needed to strengthen our economic partnership. It was comprised of three events over two days, including a CEO Forum, SME Conference and a Women in Business Breakfast.
The Business Summit Report to Leaders
Outcomes and recommendations from the ASEAN-Australia Business Summit 2018
13 May 2018
This report summarised the key recommendations arising from discussions on shared opportunities for trade, investment and increased mutual understanding held at the Business Summit held as part of the ASEAN-Australia Special Summit in Sydney on 16 and 17 March 2018. Over 120 of our region's business leaders, hundreds of Australian small-and-medium-sized enterprises and business experts attended this event.